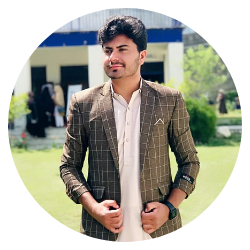 Abu Zar Mishwani 
🙌 Blogger, Web and Android Developer, & SEO Specialist 🙌
Profile
I am a Computer Science student pursuing my undergraduate degree at the University of Chitral. Alongside my studies, I work in IT and have a strong interest in technology, especially AI, with a deep passion for programming. I'm a determined individual with an entrepreneurial mindset and passionate about sharing my insights as a tech blogger. I offer my freelance services in Web Development, Content Writing, and SEO on Fiverr, where I am committed to delivering high-quality work to my clients. My blog (techabu.co) allows me to further explore and discuss the latest tech and business trends, including topics like Programming, WordPress, SEO, AI, and more. Overall, I'm confident in my abilities and dedicated to my work.
University of Chitral
BS Computer Science
I'm pursuing BSCS at the University of Chitral, where my studies revolve around programming, data structures, algorithms, and more. The courses dive into the world of computers, teaching me how to code, solve problems, and understand complex algorithms. This hands-on learning approach equips me with the practical skills essential for a career in Computer Science.
Freelancer
WordPress Developer
I serve as a dedicated WordPress Developer on Fiverr, offering tailored solutions for clients seeking a standout online presence. Specializing in custom themes and seamless optimization, I bring a creative touch to every project. My work on Fiverr reflects my commitment to delivering high-quality, personalized websites that meet and exceed client expectations.
Freelancer
Search Engine Optimization
As a Freelance SEO Professional, I specialize in optimizing websites for search engines. I leverage my expertise to enhance online visibility and drive organic traffic. From keyword research to on-page and off-page optimization, my goal is to help businesses rank higher and succeed in the digital landscape. Partner with me on Fiverr for strategic SEO solutions tailored to your unique goals.
Google IT Support Professional Certificate
I've earned the Google IT Support Professional Certificate on Coursera. This program, created by Google, equipped me with practical skills in troubleshooting, networking, and system administration. It's a testament to my proficiency in key IT areas.
Web & Android Development
This is an excellent seller, task delivered on time. Very happy with his task.
Very quick response, and good communication. Fast delivery with excellent work. Highly preferred
For a quick contact scan the QR code to get all my info